Eight miles separate USC's main campus from the Santa Monica mountain range north of Los Angeles. On a good day, you can see those mountains from campus. On a bad day, those mountains—and even the skyscrapers of downtown L.A.—are more of an idea; object permanence reassures us these places still exist within the smog, but you'd have to take someone's word for it if you didn't know.
That smog is a daily reminder of the toll humans have on the Earth, a subtler and more consistent sign than the more-extreme events that suggest fallout from climate change: flooding in Houston; more-powerful hurricanes in the American South; wildfires that ravage California and Australia.
In September, the United Nations' Michelle Bachelet declared climate change the leading threat to human rights: "This is not a situation where any country, any institution, any policymaker can stand on the sidelines," said the high commissioner for human rights. "The economies of all nations; the institutional, political, social and cultural fabric of every state; and the rights of all your people—and future generations—will be impacted."
Experts say that climate change has the capacity to undermine democratic systems by making existing inequalities worse and causing civic instability. It is against this backdrop that the youth-orchestrated climate-strike movement has boomed, in which hundreds of thousands of students worldwide have walked out of school to protest systemic inaction on anthropogenic climate change.
Those strikes and an abundance of other evidence suggest that both K–12 and higher education systems are unprepared to meet students' demands for a better climate education. And if so—if our educational institutions are unable to meaningfully address the greatest threat to our democracy and to human rights—then what does that say about the purpose and priorities of our educational system?
"Schools and school districts ought to ask themselves, 'To what extent can we actually be responsive to the needs of our students given where the world is today?'" says Charles H.F. Davis III, an assistant professor of clinical education at the USC Rossier School of Education. "There's something to be said for whether, despite its democratic aspirations of developing and forming people who participate and engage in society, [our education system] has consistently gotten away from the things that improve the material conditions of everyday people and society as a whole."
THE STAKES
Current worldwide goals—set by the Paris Climate Agreement in 2016—are to keep global average temperature from rising 2 degrees Celsius above levels predating the Industrial Revolution. The accord has an even stronger goal of preventing the global average from rising 1.5 degrees Celsius. Scientists estimate we are already at 1 degree Celsius above the preindustrial average.
The 2-degree mark is considered to be the point of major, likely irreversible damage—the death of coral reefs; ice-free Arctic summers. But hitting the 1.5-degree number would also bring consequences, scientists say, such as accelerated permafrost thawing, which would release tons of trapped methane, further warming the planet.
The United Nations' abbreviated list of the already established and growing climate change problems includes warming and acidifying oceans; more-extreme weather events such as flooding and heatwaves; changes to crop yields; and sea-level rise. Already, the pressure is felt in places like the Marshall Islands, where President Hilda Heine EdD '04 has been vigorously advocating for climate-change reform.
We have data on the culprits: The largest carbon emissions contributors are China (29 percent), the United States (14 percent), the European Union (10 percent) and India (7 percent). Of those, the U.S. has the highest emissions per capita.
The largest contributors to greenhouse gas emissions are electricity, transportation, manufacturing and agriculture. In October, the Climate Accountability Institute released a report naming 20 companies responsible for 35 percent of the world's carbon emissions since 1965; 12 are foreign-state-owned energy companies, while the remainder include names familiar to most Americans, such as Chevron, ExxonMobil, BP and Shell.
If educational institutions are unable to meaningfully address the greatest threat to our democracy and to human rights, then what does that say about the purpose and priorities of our educational system?
How much students learn about climate change depends on their state's curricular standards; whether their teachers have adequate preparation, materials, desire and political cover to effectively teach it; and what resources educational institutions are willing to invest in creating learning opportunities.
Given what we know about climate change, it would be unfair to lay the responsibility for fixing it solely at the feet of an education system that is chronically underfunded, ignored and overburdened. But polls show that many adults lack a basic climate science education; research suggests that climate science education may be helpful to reducing climate change; and most of all, as evidenced by the student-led climate strike in Los Angeles on Nov. 1, students want it.
"We need a moonshot," says Gale Sinatra, an expert on science education and the Stephen H. Crocker Professor of Education at USC Rossier. "We need the Sputnik of climate change education."
HOW STUDENTS EXPERIENCE CLIMATE CHANGE
The most extreme long-run effects of climate change will hit everyone, but low-income communities and, especially, students of color are already disproportionately feeling the effects.
Indeed, experts say the movements for equity and for action on climate change need each other.
"We live in a society that tries to compartmentalize a lot of these things, rather than recognize the ways in which they're overlapping and intersecting," Davis says.
For example: Portland, Ore., has long claimed a leadership role in environmentalism. The city was one of the first to adopt a light rail transit system; it has plans to create a zero-emissions bus fleet; and in 2016, its school district agreed to implement a progressive climate-change curriculum after a petition from students and teachers.
But the benefits of climate action have not been felt equitably in Portland. Writing for Fast Company in November, Alisa Kane, the climate action manager for the city's Bureau of Planning and Sustainability, noted how unjust urban planning has left behind children of color.
"Decades of institutional racism and gentrification pushed Black, Indigenous, Asian and Latinx communities from Portland's central city to its outer neighborhoods," Kane writes. "What was waiting for them there? Poor transit options, a deficit of trees and parks and inequitable investments in infrastructure. These areas are also further from job centers, leading to longer commute times and distances and increased transportation costs."
These differences are common in cities and lead to disparities in opportunities but also in health. Black and Hispanic people are the most likely demographic groups to live next to freeways (think Los Angeles' Interstate 10), which research shows exposes them to poor air quality, increasing the likelihood of asthma. Food insecurity hits communities of color harder, meaning that the kind of price shocks that affects food—say, after a natural disaster—would most hurt people of color.
"We can't make the environment separate from people, and we can't separate people from the environment," Davis says. "And if that's the case, we have to ask which people are most likely to be affected by what's happening."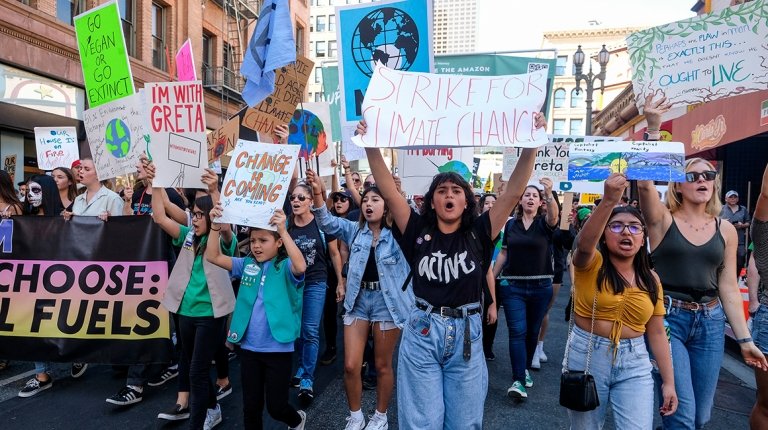 BETWEEN A HOT ROCK AND A HARD PLACE
Each state has its own standards for what children should know by the time they graduate from high school. Last decade, a coalition of teachers, researchers and education nonprofits produced the Next Generation Science Standards (NGSS), an initiative meant to unify science standards across the U.S. Twenty states and the District of Columbia have adopted NGSS, while many other states have adopted similar standards.
Yet English and Math classes overshadow science classes in terms of instructional time, Sinatra says, and being able to learn climate science obviously presupposes that students have learned science generally. But a 2016 report by the National Academies of Sciences, Engineering, and Medicine found that science teachers need more preparation under NGSS.
"It's like if you've never even jogged before," Sinatra says, "and now you're going to run the Boston Marathon?"
NGSS does include climate science elements, but the implementation of those standards varies wildly between schools and even between classrooms. Environmental literacy is not otherwise mandated in most states; Maryland was first of a handful to do so in 2011.
And political differences can skew curricula between states; for example, a January review by The New York Times found a more-conservative approach to climate change in Texas textbooks than California texts.
"There's something to be said for whether, despite its democratic aspirations of developing and forming people who participate and engage in society, [our education system] has consistently gotten away from the things that improve the material conditions of everyday
people and society as a whole."
—USC Rossier Assistant Professor of Clinical Education Charles H.F. Davis III
"We know that what's actually implemented in classrooms often varies considerably from what's in the standards," says Morgan Polikoff, an associate professor of education at USC Rossier and an expert on standards and curriculum. "The question is, if this is an important priority—and by all accounts it should be—what specific content and strategies are being implemented at the school to ensure that students are learning about climate change and what they can do to combat it?"
Remember how those students in Portland petitioned for a better climate change curriculum? In March 2019, students staged a walkout because the district hadn't implemented what it said it would. A science teacher told The New York Times that he had sent a letter of concern to the superintendent, relaying that he had been told by the district that "'peripheral' work like climate justice education would need to be put on hold."
Indeed, the climate-strike movement of 2019 unearthed similar apathy across the country, as districts charged protesting students with unexcused absences and told them that "there just isn't time" to address interest in climate change.
"Of course literacy and numeracy are important," Davis says, "but it shouldn't have to be an either/or conversation. … This is a system not acknowledging its role and responsibility."
TEACHER BARRIERS
It's not that most teachers are uninterested in climate justice. The California Federation of Teachers (CFT), for instance, claims to be the first statewide labor organization to have adopted a Climate Justice Agenda, in 2016. CFT followed up on that agenda by offering a climate justice toolkit for teaching and by pushing for the state's teacher pension fund to divest from the fossil fuel industry.
In fact, three out of four teachers agree that climate change and its impact should be taught in schools, per an August survey by National Public Radio. Yet in the same survey only 4 in 10 teachers say they teach climate change. (Only 45 percent of parents talk to their children about it.)
By an overwhelming margin, surveyed teachers who don't teach climate change say it's because it's not their subject area. This may be a reflection of a broader viewpoint within district leadership that sees climate science education as incompatible with the many things schools are already asked to do.
In their book Teaching Climate Change to Adolescents: Reading, Writing, and Making a Difference, authors and professors Richard Beach, Jeff Share and Allen Webb write that school districts need to understand that state standards aren't so confining: "A purely science-oriented approach to climate change can miss the social, historical, ethical and human realities that are critical to the problem."
But it's one thing to write that, and it's another thing for an interested teacher to have the resources and knowledge, much less feel supported, to tackle climate change in a non-
science classroom.
Viet Nguyen MAT '11 has been a teacher of science and engineering for 11 years. Although he can point to a proactive history of bringing climate change into the classroom, he says the level of similar concern among colleagues varies widely, with some teachers worried about re-credentialing or having time to learn new curricula.
"If you're doing a free workshop on a Saturday," Nguyen says, "you have to really be into your stuff."
Nguyen adds that students are not so monolithic in their activism, which means that teachers need to lead on climate science education.
"I bring it up more than they do," he says.
HIGHER EDUCATION
When she took over as USC's 12th president, Carol Folt galvanized an institution that by many objective measures has lagged behind its peers for years on sustainability measures.
In her few months leading the university, Folt has made climate change one of the signature issues of her presidency. Early actions included reinstating a discount on bus and rail passes for USC employees, planning the installation of solar panels at the Galen Center and USC Wrigley Marine Science Center, and establishing a working group to guide the university's future sustainability efforts. (Sinatra is a member.)
"The culture at USC is changing," says Claire Mauss '20, an environmental sciences and health major and co-executive director of USC's Environmental Student Assembly (ESA). "There's been a lot of student traction for a long time, and it wasn't until we got this new administration that we've actually been able to do anything."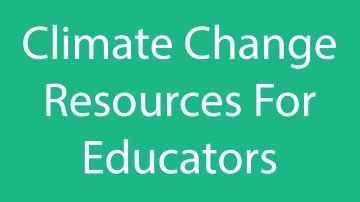 Mauss says the ESA has been working on a project that would establish mandated training for incoming freshmen around sustainability and climate change, the way students already must learn about alcohol consumption. At the university level, the provost's office is exploring how to improve climate change education.
Experts say that a key component of climate change education is having institutions examine their own practices; schools can't expect to teach students about climate change and escape culpability for their own roles in accelerating it.
"The more you learn about the climate and what it's doing to society, the more you want to do something about it," says Victoria Petryshyn, an assistant professor of environmental studies at USC and teacher of a history class focused on climate change. "The generation ahead of our students has seen this problem and not done anything. At least you want to see that your university is doing something about it, because then you don't feel like you were part of the problem."
We need the Sputnik of climate change education.
—USC Rossier Stephen H. Crocker Professor of Education Gale Sinatra
According to Julian Dautremont, director of programs for the Association for the Advancement of Sustainability in Higher Education, there are three places where colleges and universities can see the most impact in fighting climate change: responsible endowment investment, responsible procurement and revisiting graduation requirements.
Reallocating endowment funds away from the fossil fuel industry has long met resistance. The National Association of College and University Business Officers reports that 600–700 institutions have endowments exceeding $50 million where 2–7 percent of funds are invested in "energy and natural resources."
As covered by The Chronicle of Higher Education, universities haven't been as responsive to moral divestment arguments so much as economic ones, as investments in renewable energy are now showing more long-term promise than fossil fuels. More than three-dozen colleges and universities—primarily in left-leaning states—have withdrawn or begun to withdraw from fossil fuel investments.
Student protests have been more effective in bringing transparency; in February, for example, pressure from a coalition of student environmental groups such as Mauss' successfully pressed USC to divulge that it has $277 million invested in fossil fuels.
In addition to finances, colleges and universities have to be willing to ask a host of questions about how committed they are to fighting climate change: How sustainable are the school's suppliers? How might meat consumption be reduced on campus? What barriers exist to creating more climate change classes? Should a climate change course or service-learning component be a graduation requirement? Do efforts address the racial and gendered components of climate change? Is the school acting as a good partner for the community in which it exists?
"This is an unprecedented amount of change," Mauss says. "Universities are working against a system not designed to do this."
But, she says—in a positive sign that awareness and activism are spreading—incoming classes are showing excitement about addressing the issue.
"Our first meeting this year had 250 attendees," Mauss says. "We had freshmen emailing us over the summer asking how to get involved. The more I see youth want to get involved with this, the more hopeful I become."
That's the kind of progress necessary to help fix such a large, multifaceted problem. Sinatra, the USC Rossier professor, says climate anxiety is merited, but the minimum that educational institutions can do is signal urgency instead of fatalism.
"If you tell people we're screwed and that there's nothing you can do, then they don't want to do anything," she says. "And if nobody does anything, then we are screwed."