It happened years ago, but for Wilmon Christian, director of PRISM and the National Equity Network, it still feels like yesterday.
He and several colleagues were in the midst of a national campus-climate project, and had arranged interviews with various administrators and students regarding employment in higher education. But it was a woman who didn't have an appointment that impacted him the most.
"She just found us," he says. "She was a woman of color, and she came to tell her story about how badly she'd been mistreated at her particular institution, and how she felt that her options were limited. I think about that woman every time I am working on PRISM."
Created by Christian and his colleagues a year ago and housed in the USC Race and Equity Center, PRISM is an online tool aimed at leveling the playing field for higher education employment so that people of color, who have traditionally been underrepresented in faculty and senior administration positions, have a new way to be considered for jobs.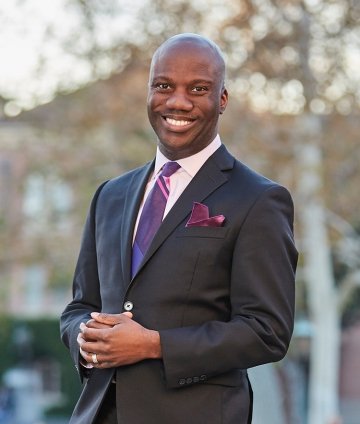 PRISM has long been a vision of Shaun R. Harper, the founder and executive director of the Race and Equity Center as well as USC Rossier's Clifford and Betty Allen Professor in Urban Leadership.
"I often was called to do work with colleges and universities around diversity issues," he says. "Quite consistently, I would hear excuses like, 'Our faculty lacks diversity because we just can't find any highly qualified candidates anywhere.' The more I heard it, the more frustrated I became, because I knew, with some strategy and intentionality, that search committees, HR professionals, deans, provosts and others could find highly qualified people of color. They just needed to put more effort into looking for them."
PRISM helps make that effort less taxing, bridging the gap between institutions and candidates so that people of color become more visible to recruiters at colleges and universities. Similar to career platforms like LinkedIn, PRISM posts openings in addition to allowing job seekers to set up profiles for free. That way, users can search for vacancies and also network with peers.
Employers in higher education are required to pay a subscription fee, which gives them access to a trove of potential applicants and strategies to recruit them. Among the early subscribers are Compton College and the University of Colorado Boulder.
"We are helping folks think through things like: How does your search process look? How do you write your job descriptions? Where are you looking for candidates? How do you determine what verifies them as qualifiable?" says Charles H.F. Davis III, the Race and Equity Center's chief strategy officer.
The Center also works with subscribing institutions on budgetary issues, ensuring that their initial investment in PRISM is sustainable. It's one of many ways that the USC Rossier School of Education is an ideal home base for PRISM, since their goals align so well, according to Center finance manager Brandi Junious.
"I really like that part of USC Rossier's mission is to interrogate systems of power," she says. "That's what we're doing here with PRISM: We're interrogating the systems of power at universities that make these hiring decisions that advance certain groups of people and disadvantage others. And we call it out: We say, that's not OK, it's not equitable, it's not right. And if your excuse is that you don't know how to make it right, let us show you how to do that through PRISM."
Though currently focused strictly on the higher education workspace, PRISM's founders are considering the possibility of making the tool available to a broader range of employers. For now, however, the program will remain grounded in its quest to help advance people of color in the academic realm. Its creators appreciate the role USC has played in getting PRISM off the ground (the university has a lifetime free subscription) and want to replicate this supportive relationship far beyond Southern California.
"PRISM is intended to be a resource that benefits the nation," says Harper. "The response to it has been absolutely incredible. PRISM is going to change the face of higher education in the U.S. I'm certain of it."