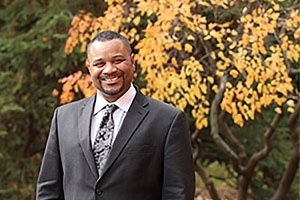 Often, when someone achieves professional success, he or she will be asked what it took to get "there" or where the source of motivation came from.
For Merrill L. Irving Jr. EdD '07, his source of motivation, starting from his childhood in Charleston, West Virginia, came from his mother and her devotion to education.
"My mother actually gave up full scholarships to raise me. She did not attend college. As a single mother, she worked full-time with 12-hour shifts," said Irving. "My mom was very committed to education and wanted me to go onto higher education. Her dedication and commitment truly instilled in me the value of education and what it can do for your life and career."
It was his mother's influence that gave him the desire to succeed in school. And her wish for him to go on to higher education came true as he received a bachelor of arts in both political science and history and a master of public administration from West Virginia University and a doctor of education in educational psychology right here at the Rossier School of Education in 2007.
Irving, who is associate vice president of continuing education, training, and workforce development for Oakton Community College, also cites USC Rossier Professor Emeritus Myron H. Dembo as a source of his inspiration and motivation and his education at Rossier as instrumental to his success.
"The Rossier education completely defined my view on education and how I find ways to motivate, not only students, but also companies, employees, and partners to achieve an educational agenda," Irving said assuredly.
In so many ways, I view my education from USC as the golden key for current and future success in my career. It's not just the education I received, but rather, it is the quality of the education. Merrill L. Irving Jr.
Before Irving ever planned on attending school in Southern California, he started his professional career in Los Angeles. As a regional director, he worked on the Federal Department of Labor initiatives for underserved populations and welfare-to-work, which helps and equips welfare recipients find suitable employment.
"A lot of them were single mothers who had children and who were still pursuing an education and getting back into work," he said. "I grew up with the similar challenges, being born to teenage parents and raised in a single parent home. And truly I wanted to understand the motivation and ask 'what was the drive?'"
Because of his upbringing, Irving was able to closely identify with those in the underserved population and the challenges that they faced. It was then that he knew he wanted to be an advocate of education and pursue educational psychology at USC.
"I wanted to work directly with the underserved population and help people succeed in education," he said. "I want them to not just to get a job, but also create careers through the foundation of education. That's what made me want to work in higher education and with those who are coming through the workforce and looking to get back into work and securing career."
Every day at Oakton Community College, Irving assists people who are "learning to earn," as well as students who are preparing to transfer out to universities. Oakton enrolls 46,000 credit and non-credit students, and the better part of their student population comes from a minority background.
Despite his senior position, Irving takes time to develop personal relationships with students and mentors them as they find a field they are passionate about.
"I identify with my current mentee because his parents never went to college. Everything was new to him," Irving said. "Many students ask me, 'how much will that job pay me?' but a salary cannot sustain what we like to do long term. That comes from within."
It is no surprise that Irving sees his education, especially at USC, and his extensive experience as a public servant as some of the reasons why he was recently appointed by the American Associate of Community Colleges (AACC) to a three-year term on its Commission on Economics and Workforce Development. The AACC is a national advocacy organization for community colleges and works to better and positively affect state policies.  He also credits the influential people he had by his side on his journey, most notably his mother.
"I've been surrounded by great people. When you see a variety of people who believe in you and know what you can accomplish, there is no reason why you shouldn't believe it yourself. That is how I motivate myself. People see positive things in me, so I know there are positive things to be done."