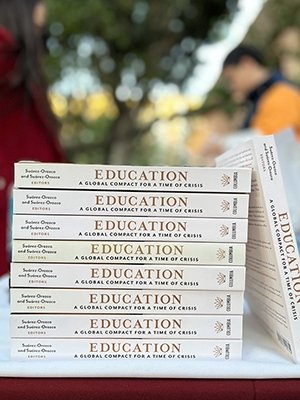 The COVID-19 pandemic has made a massive impact on education affecting children around the world. What are higher education's responsibilities to respond? That was the question University of Massachusetts Chancellor Marcelo Suárez-Orozco explored at a USC Rossier lecture on Nov. 2. He also discussed topics from his new book Education: A Global Compact for a Time of Crisis, which calls for a new approach to education that responds to the overlapping crises of climate change, poverty, forced migrations, war and global pandemic.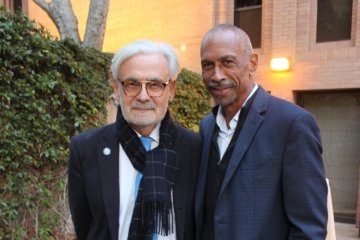 As one the world's leading experts on issues related to immigration, refugees and the education of children who are immigrants and refugees, Suárez-Orozco has published several books on the subject. "He is the immigrant story; he came to the United States at the age of 17," said USC Rossier Dean Pedro A. Noguera. "He epitomizes the story of many immigrant students today. Because he has lived it, he can speak and write about it in a way that only a few others can."
After immigrating to the United States from Argentina, Suárez-Orozco was first admitted to community college, then attended UC Berkeley where he earned his AB, MA and PhD. Prior to becoming chancellor of the University of Massachusetts in 2020, Suárez-Orozco served as the dean of UCLA's Graduate School of Education and Information Studies for six years.
"COVID-19 has been a wicked, powerful accelerant feeding the wildfires of human inequality," Suárez-Orozco stated. "The global pandemic laid bare for the world to see the deepened inequalities in opportunities to learn that flow in our country, but also really increasingly in most of the high and many of the middle-income countries and many of the low-income countries as well."
Lecture highlights and Suárez-Orozco's reflections on education's role during times of crisis:
Empower future generations: Suárez-Orozco explained that educators should nurture their students to be inclusive, humane, just and sustainable. He stated, "Schools seek nomothetic knowledge, but need to reflect and reflect upon the cultures, the environments, the socio-economic realities of the communities in which they form an essential part."
Quality education and fundamental skills: Using literacy as a measurement, he explained that the current quality of education and its foundations are broken. "Almost 400 million children don't have literacy, [they] don't have the most fundamental basic literacy skills," said Suárez-Orozco.
Racialized inequalities continue: The structures of racism and inequality globally are creating a world where schools are unequal and segregated more than any other time. "The pandemic essentially intensified these issues," he stated. Suárez-Orozco observed that educational systems are struggling to keep up with the growing population of immigrant and refugee youth of color.
Climate change education for all: Suárez-Orozco stressed the importance of "cradle to grave climate change literacy." He felt that educators are falling short when it comes to teaching students about our environment. "Our youth are clamoring to learn about climate change, but we're failing them," he said. He encourages educators to nurture, educate and empower students or, as he calls them, "future climate warriors."
USC Rossier Marcelo Suárez-Orozco Lecture