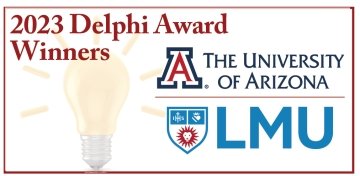 The Pullias Center for Higher Education at the University of Southern California's Rossier School of Education, in partnership with the American Association of Colleges & Universities (AAC&U) has selected two winners of the 2023 Delphi Award. Loyola Marymount University in Los Angeles and the University of Arizona will each receive $15,000 cash awards to continue their work to support adjunct, contingent and/or non-tenure-track faculty (NTTF) in promoting student success. In addition, the University of Massachusetts Amherst is acknowledged as a Delphi Award finalist for their successful work toward supporting contingent faculty.
"Each year we receive amazing applications that speak to the innovative and thoughtful approaches campuses are taking to support contingent faculty. This year's winners are noteworthy for their long trajectory to create wrap-around supports and improvements for faculty," stated Professor Adrianna Kezar, Director of the Pullias Center and primary investigator on the Delphi Project.
As in past years, the Pullias Center identified winners that represent key changes that they believe should be happening across the country.
Loyola Marymount University (LMU), located in Los Angeles, has been selected as a 2023 Delphi Award winner for their entry, "The LMU Shared Governance Structure: Where All Faculty Voices Matter." Their application shared how they, over the past decade, "created ways to include NTTF voices in our shared governance structure, thereby inviting these members of our community to play active roles in shaping LMU's future." This result? Improved working conditions, clearer hiring and promotion guidelines, providing contingent faculty a larger voice in shared governance, inclusion in the faculty senate with a dedicated representative on the faculty senate executive committee, and ultimately, expanded eligibility for benefits and clearer promotion guidelines.
"Loyola Marymount University has made meaningful strides to address the needs of non-tenure track faculty, and the Delphi Award reinforces our commitment to the role of non-tenure track faculty in shared governance, as well as our appreciation and celebration of our outstanding visitors, lecturers instructors and clinical faculty," stated LMU's executive vice president and provost, Thomas Poon, Ph.D. "The support the Award provides will help foster the inclusive, innovative and supportive learning environment for which LMU has long been known."
With their entry, "Creating the Career-track Faculty Model from Appointment to Advancement and Retention," the University of Arizona focused on "bringing dignity and respect to contingent faculty employment and to recognize their significant contributions to students success as mission critical to the university." This was brought to fruition with the creation of a new faculty model called 'Career Track,' which included articulating clear appointment guidelines, advancement policies, as well as retention efforts rooted in equitable compensation and recognition. Their new faculty model has helped improve the quality of work among their contingent faculty that is essential to furthering the success of students in higher education.
"We are proud to share our work over the past 10 years to bring dignity and respect to contingent faculty employment and contributions to student success as mission critical to the University," said Vice Provost for Faculty Affairs Andrea Romero. "Through intentional efforts at first led by faculty senate, significant changes have been made at the University of Arizona to develop a faculty career track that includes multi-year contracts, promotion pathways and retention efforts."
"Delphi research has long supported that by including contingent faculty in governance, campuses can make greater strides in making needed changes and LMUs efforts illustrate this important insight," stated Kezar. "University of Arizona's career track for faculty is an example of the types of changes we are increasingly seeing across the country that are a game changer for improving the lives of contingent faculty, making them really contingent no more."
The University of Massachusetts Amherst was selected as a finalist for this year's Delphi Award, with their entry entitled "Policies, Practices and Programs to Support Equity and Inclusion of Non-Tenure Track Faculty at the University of Massachusetts Amherst." Their core belief that full inclusion of contingent faculty with respect to working conditions, employment policies and benefits, governance structures, and professional development programs benefits the mission of the campus to deliver a world-class education to their students. UMassAmhert's policies, practices and programs ultimately resulted in a faculty job satisfaction survey that showed 80% of contingent faculty are satisfied with the university as a place to work.
The winners of the Delphi Award will be honored for their work at AAC&U's annual meeting on January 17-19, 2024. "The Delphi Award recognizes that student success is dependent on the engagement of all faculty, and it draws attention to the need for colleges and universities to play a leadership role in advancing equity," said AAC&U President Lynn Pasquerella. "AAC&U congratulates this year's winners and finalists, and we thank them for their outstanding work."
The Delphi Award is supported by the TIAA Institute, which helps advance the ways individuals and institutions plan for financial security and organizational effectiveness. Pullias' Kezar noted the importance of the partnership with TIAA: "We appreciate the continued support of the TIAA Institute, which has long demonstrated commitment to building knowledge about the academic workforce."
This is the sixth year for The Delphi Award, an initiative of the Delphi Project on the Changing Faculty and Student Success at the Pullias Center. The Award is an extension of the Delphi Project's mission to better support faculty off the tenure track while helping create new faculty models for postsecondary institutions to adopt. The USC Pullias Center for Higher Education has worked in partnership with the American Association of Colleges & Universities on the Delphi Project since the Project's inception in 2012, developing reports and resources, collecting models and conducting research and advocacy on this issue.
Instructional faculty in American higher education is mostly comprised of NTTF/adjunct positions responsible for teaching the vast majority of college and university classes. These instructors are typically hired on shorter notice, on short-term or no contracts, and paid less than tenured or tenure-track faculty, while offered little or no orientation or mentoring, professional development, or voice in governance. As a result, these contingent faculty are often tasked with balancing heavy teaching loads at multiple institutions despite limited time to prepare courses and limited support their curriculum design or pedagogy—factors shown by Delphi Project research to correlate with lower student success rates.
Additional tools and resources from the Pullias Center and the Delphi Project to assist campuses in supporting non-tenure-track faculty include Departmental Cultures and Non-Tenure-Track Faculty: A Self-Assessment Tool for Departments and Non-Tenure-Track Faculty on our Campus: A Guide for Campus Task Forces to Better Understand Faculty Working Conditions and the Necessity of Change. Case Studies of all Delphi Award winners, including 2022 winners Dominican University of California and Montgomery College, and finalists the University of Texas San Antonio and University Council - American Federation of Teachers/University of California, are also available on the Pullias Center website.
Contact: Sheryl MacPhee, USC Pullias Center for Higher Education