Growing up, Kim Kircher could always count on her teachers to be advocates, motivators and her biggest cheerleaders. While her upbringing was unconventional, she gravitated towards teachers who provided support and a strong sense of community. "I found school to be a safe haven for me. As I grew older, I always knew I wanted to do something that helped others, but didn't know which direction I wanted to go in. I went into teaching because I wanted to provide to others what my teachers had given me," Kircher said. In striving to be the kind of teacher who supported her on her own path, Kircher took the skills that she learned at USC Rossier and applied them in the classroom to become one of Los Angeles Unified School District's (LAUSD) 2021-2022 Rookie of the Year recipients. She was among 17 first-year district teachers recognized for their commitment to education.  
Kircher came to USC Rossier's Master of Arts in Teach (MAT) program after having worked for about four years in the non-profit sector. She had previously earned a bachelor's degree in liberal studies from San Francisco State University and had been unsure about her next move in her own career and educational journey. But the prospect of being able to guide young learners was always on her mind. Kircher knew that she wanted to attend a reputable university with a strong network of alumni and practitioners, which is why she chose USC.
When Kircher started the program, the COVID-19 stay at home orders soon commenced, which made the transition to graduate studies more challenging, but the MAT program proceeded where she learned about teaching for equity, equal access to resources, lesson plan development, strategies to manage a classroom, fundamentals of pedagogy, and how to create a culturally responsive and welcoming classroom. Kircher and a small cohort of MAT students were also in a brand new residency program that aimed to better prepare new teachers for their roles in the classroom. This first teacher residency program at USC Rossier was established by Emeritus Professor Margo Pensavalle and former Dean Karen Symms Gallagher. The residency program pairs resident teachers with fully credentialed, experienced teachers to better prepare MAT students to teach in local schools.
"Kim was in the first group of MAT residents. This was a brand new program, and she was always there advocating for her fellow students. She was very efficient and dedicated to the residency program," Pensavalle said. "Kim was also on top of her studies. I remember her writing beautiful lesson plans. She's an exemplary student both professionally and academically."
Pensavalle recalled how Kircher was often looking for ways to improve the residency experience for herself and her cohort mates. An example of this during the residency is how Kircher helped​ members of her cohort secure reimbursement for parking at the facility where they were teaching.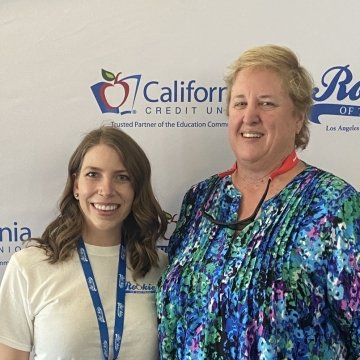 Kircher credits the residency program with making her a stronger teacher because she was able to get more student teaching time and actionable feedback from Pensavalle. She also felt that Associate Professor Debra Danner was an immense influence in her teaching training in terms of the instruction she received about assessing the needs of students and problem solving to address those needs.
"Dr. Danner highlighted the type of teacher that I wanted to be for my students by making her students feel the energy and care that she radiates during her classes and how welcoming she is to other perspectives and conversations. I respected her for being the kind of instructor who cares, while encouraging us to examine ourselves and who we are as educators. Dr. Danner provides guidance for students and speaks to students to figure out their needs, then tries to meet those needs," Kircher said.
Meeting student needs is exactly what Kircher has done at Sun Valley Magnet School, where she teaches 6th grade students. Ms. Martinez, an assistant principal at Sun Valley Magnet School, thought that Kircher was doing an excellent job in her first year and suggested that Kircher be nominated for LAUSD Rookie of the Year. Kircher's colleagues on campus had visited her classroom to observe her classroom management. Kircher shared her experiences with lesson planning and building relationships with her students.
Being nominated for Rookie of the Year while at Sun Valley Magnet School was quite an accomplishment considering there were 13 other new teachers. Teachers were initially nominated for the award, and then nominees would answer in depth questions about their teaching style and approach in video form. LAUSD honored 17 first-year district teachers through the annual Rookie of the Year program, recognizing new teachers for their service and performance based on factors that included effectiveness in preparing and delivering instruction, providing a positive classroom climate with strong routines and procedures, adopting a dynamic and engaging teaching style, and level of professionalism. Kircher accepted the Rookie of the Year Award with her mentor, Danner, on July 1.
Reflecting on Kircher's work and award, Danner said, "I am so proud of Kim and what she has been able to accomplish already as a new teacher. She was an invaluable mentor and a leader while she was in our program, and continues to be a great source of encouragement and candid advice for our current students.  She returns to my classes each semester to share her experiences with navigating the road that lies ahead."
As Kircher looks ahead in her career, she definitely wants to stay in the classroom for several more years but is open to returning to complete a doctorate and helping train new teachers.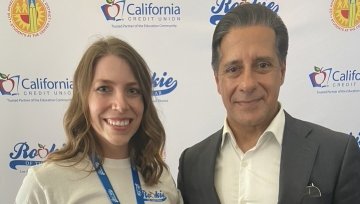 "I want to stay in the classroom for a while longer. I want to continue to grow as an educator and not aim to be perfect, but rather further develop and improve upon my practice. I believe that I would like to go into the administrative route in the future," Kircher said. "I would also be interested in training teachers and possibly becoming a professor so I can teach what has made me successful in the classroom and incorporate that knowledge into the university setting. USC helped me build a foundation for my pedagogy, and I would love to help future educators in the same way."