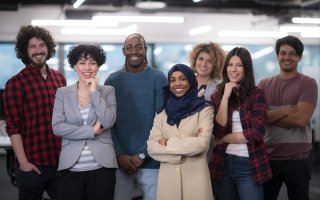 Diversity, Equity & Inclusion Certificate Program
USC Rossier's DEI certificate program provides participants with the knowledge and skills to advance diversity, equity & inclusion. Participants go on to disrupt systems that hinder well-being, positive engagement, and achievement in their school environments.
Program Goals
Improve decision-making
Increase likelihood of meeting organizational goals
Broaden perspective within groups
DEI Stories
Click below to read stories about how Rossier's DEI certificate program has made an impact on past participant's diversity, equity, and inclusion work in various TK-12 school environments.
Key Program Learning Objectives
Identify policies and practices to dismantle barriers to opportunity
Analyze internalized, institutional and systemic structures of silence and oppression
Develop an equity plan that supports necessary conditions for school-employee and student well-being and achievement
Features
24 biweekly live sessions over eight months
A mix of self-paced and virtual, cohort-based learning
Highly interactive virtual sessions with small group breakout dialogues
Real-world case study format delivered by experienced DEI educational professionals
Module 1: Systems of Silence & Dehumanization.
Define key analytical concepts (i.e., equity, race, ethnicity, gender, ability, sexual orientation, SES) and examine their individual and combined system-wide impact on instruction, assessment and leadership.
Module 2 Critical Consciousness:
Deepen one's critical consciousness, including the ability to recognize, analyze, and transform systems of inequality.
Module 3 Staff Inclusion and Mattering:
Explore the development of equity policy structures by analyzing knowledge, change, and talent management.
Module 4 Student Belonging and Mattering:
Critically reflect on the tension between education as a source of opportunity and education as a source of oppression for students.
Module 5 Educational Equity:
Analyze mental models that promote institutional, structural, and policy changes and move educational environments toward more equitable outcomes for all students and employees.
Module 6 Sustainability:
Imagine and enact educational possibilities to undo policies and practices that make us complicit in perpetuating wrongs.
CEU credits are available for this program if you complete all modules and requirements. CEUs are recognized nationwide as a standard measurement of an Individual's continuing education activity and serve as a permanent documentation of your professional development coursework and are presented in the form of a University transcript.
Program Fees: $6,000 for the program.
10% deposit due at the time of registration.  
Tuition due at the time of program start.  
Purchase orders, credit cards, and USC Credit Union loans accepted.
Register now [[[ https://connect.rossier.usc.edu/apply ]]]  
Click above the register. During registration, you will need to answer the following five questions 
Why is Diversity, Equity, and Inclusion important to you? (100-150 words)
Describe the DEI work that you are responsible for facilitating or leading. (100-150 words)
Describe the team that you will likely facilitate in the development and implementation of diversity, equity, and inclusion systems and structures. (100-150 words)
What do you hope to learn from this program or accomplish at the end of the program? (100-150 words)
How did you hear about the DEI Certificate Program? (100-150 words)
Eligibility Requirements
To obtain USC Rossier's Diversity, Equity, and Inclusion (DEI) Certificate, you must:
Have an administrative work position related to TK-12 school systems that requires the responsibilities of implementing diversity, equity, and inclusion structures and systems.
Have a team that you will facilitate in the development and implementation of diversity, equity, and inclusion systems and structures.
NOTE: Registration is accepted through an online registration system. This system provides secure access for all personal and payment information. Due to security reasons, we ONLY accept online registrations.
Our past participants currently hold positions such as:
Program Advisor
Area Superintendent
Executive Leadership Coach
Deputy Superintendent
Executive Director
Director
Senior Director
Chief of Staff
Coordinator
Instructional Support Officer
Assistant Superintendent
Equity Officer