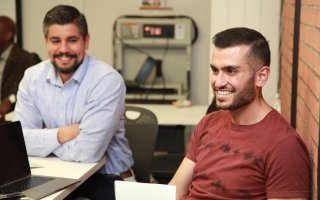 AASA-USC Urban Superintendents Academy
This program is designed for aspiring and current education leaders working in our nation's most complex urban districts. 
The USC Rossier Urban Superintendents Academy reflects the commitment of Dean Pedro Noguera and our team of veteran faculty to prepare current and future superintendents to thrive in their roles as breakthrough leaders. Faculty Director Maria Ott invites experienced educational leaders to "Join the Urban Academy to gain the insights, skills and practices needed to make a lasting and measurable impact as superintendent. Bring your innovative thinking, your experiences as a problem solver and your vision for a high-performing system to the next cohort of urban leaders."
Recruitment for Cohort 8 has begun, and we welcome your interest in joining a program committed to equity in practice and to supporting leaders willing to lead for change in support of the nation's greatest asset—our diverse student population. Bring your willingness to collaborate, to be mentored by successful leaders and to learn and lead in a time of change and opportunity.
Curriculum Overview
This program will provide our participants with a safe place to learn from experienced and practicing professionals as well as study cutting-edge research-informed data from research experts.
Coursework Examples
The Changing Face of Public Education and the Urban District
The Superintendent and the Elected/Appointed Board
Building a Professional Culture for Teachers and Staff
Equity and Cultural Responsiveness
Community Engagement
Ethical Principles and Professional Norms
Vision, Mission, and Strategic Planning
Cultivating a Caring and Inclusive School Community
Unions, Charters, and Mayors – How to Lead through Adversity
Operations and Management for the Urban Leader
Becoming an Urban Superintendent
Leading to Transform
 
If you are considering a position where you will be asked to provide leadership in a school district that serves communities with diverse populations and broad socio-economic representation, you are the person this program is designed to develop and support. You will learn how to improve communication with and management of your teachers, fellow administrators, students, parents and the community as a whole.
Benefits
When you join the Urban Superintendents Academy you will:
Receive coaching and mentorship from practitioners who have had successful careers in complex districts
Practice and receive feedback on leading courageous conversations with school boards and other key stakeholders
Develop a network of professional colleagues with a common goal of improving education through an equity framework
Receive job placement support, including direct access to search firm representatives who will support your job search efforts
Receive Urban Superintendent Certification jointly issued by AASA and USC Rossier School of Education
 
You will meet with your classmates September 16th and 17th, 2022 for a two-day session (Retreat) held on the USC University Park Campus. In the spring of 2023, you are expected to meet in person at the 2023 AASA NCE pre-session held in San Antonio, Texas. Costs associated with the September retreat, 2023 AASA NCE pre-session and 2023 AASA NCE National Conference Awards are in addition to program fees. All other course sessions will be held synchronously online. The class meets every other Monday from 4:30 to 6:30 p.m. PT.
Admissions are accepted on a rolling basis with a cap of 25 participants per cohort.
Applications are now being accepted for Cohort 8 for September 2022. Interviews will be held in April–June 2022.
If you wish to have a representative contact you prior to submitting an application form, please complete our Information Request form.
Once you are ready to apply, please visit, https://www.aasa.org/urban/.
Upon receipt of your application, the USC Rossier School of Education will contact you to arrange a phone interview with Faculty Director Maria Ott. The meeting is designed to calibrate expectations for the work commitment and outcomes of the program.
 
Program Details
Next Deadline
Applications are accepted on a rolling basis with a cap of 25 participants per cohort.
"The readings and discussions of our sessions have afforded me the opportunity to grow and become a more reflective leader. The topics covered and the amazing access to a faculty of practitioners—as well as current leaders as guest speakers—have provided me with a strong foundation going into my first superintendency.
Superntendent, Midland ISD