Research Interest
college access and equity, nexus between education and criminal legal system, justice-involved youth.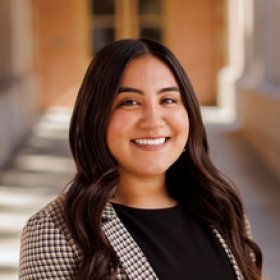 Contact Information
Advisor(s)
Research Center
Bio
Maritza E. Salazar (she/her/ella) is a PhD student in the Urban Education Policy program and a Research Assistant at the Pullias Center for Higher Education. She is advised by Adrian Huerta in the Higher Education concentration.
Her interests bridge the K-12 and higher education pipeline and explore the relationship between education and the criminal legal system. In particular, she is interested in college access and equity for justice-involved youth and for youth attending continuation high schools.
Maritza holds an M.Ed in Educational Counseling from USC and a B.A. in Sociology from UC Riverside. She has volunteered with the Prison Education Project where she has facilitated courses inside the California Rehabilitation Center in Norco, CA and at the Custody to Community Transitional Reentry Program in Santa Fe Springs, CA. She served as the co-director for the USC Underground Trojans where she assisted with an annual scholarship opportunity for incarcerated and formerly incarcerated students at adult and juvenile facilities. 
Awards and Grants
2022         Ford Foundation Predoctoral Fellowship Honorable Mention
2022        UCEA David L. Clark National Graduate Student Research Seminar Scholar
2021        HACU Café Bustelo El Café del Futuro Scholarship Recipient
2021        California Latino Legislative Caucus Foundation Scholarship Recipient 
2021        Just Education Policy Institute Fellow 
2020        Order of Arête recipient, University of Southern California
2019         Latino Alumni Association Scholarship Recipient, University of Southern California
2018         Impact Scholar Scholarship Recipient, University of Southern California 
Publications