"These are some of the best minds in the Republic of Armenia," says Shushan Karapetian, Deputy Director, USC Dornsife's Institute of Armenian Studies, of the scholars participating in the Research Methodology Workshop Series. Since March, USC Rossier Associate Professor of Clinical Education Artineh Samkian has conducted the workshops with her Armenia-based students on Zoom. "It's an Intro 101 of methodological approaches for humanities and social science researchers, offering qualitative, quantitative and mixed methodologies," she said.
Reflecting the Institute's research focus on contemporary Armenian studies, the workshop is presented through its USC Tacori Center, an academic facility located outside Yerevan, Armenia's capital city.
In addition to acquiring knowledge of current methodologies to use in their own research, workshop participants are learning to teach these techniques to Masters and PhD students, future teachers and researchers, in Armenia and diaspora communities. Karapetian noted, "Faculty in Armenia told us they needed this type of resource for their students and themselves."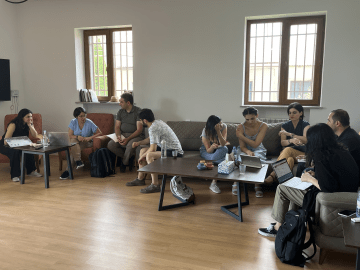 This is the first-ever partnership between USC Rossier and the Institute. "What makes this collaboration so special," said Karapetian, "not only is it an interdisciplinary and inter-school connection within USC, but also with institutions in Armenia." Distinguished in their fields, the workshop's students are associated with Armenian institutions of higher education, Yerevan State University, American University of Armenia and Slavonic University, along with think tanks, and public and private sector professions.
Under the Soviet Union, humanities and social sciences in Armenia were ideologically and politically driven. Independent research languished. The 1988 earthquake, Nagorno-Karabakh wars and economic collapse also delayed substantive research. Now, trailblazers in academia and the nation's burgeoning tech industry are calling for exploration in the humanities and social sciences.
"There's a gap in knowing how to develop research and engage in sampling and data collection for contemporary issues within Armenia and how to teach these processes," said Samkian. "We need these approaches to show us what questions to ask. What are the tools we need? How do we decide which tools to use?"
In a recent session on data collection, she presented options for discussing interviews, documents, artifacts, or surveys. "We ended up going with interviews, documents, and artifacts," she said, "reflecting this particular group's focus in the humanities."
A unique challenge to leading a workshop of established professionals is to teach without appearing to patronize. "Working within Rossier has been perfect training for that very sensitivity," said Samkian. "My USC students have been, for the most part, educational leaders in their own right. I was already positioned to teach these amazing scholars."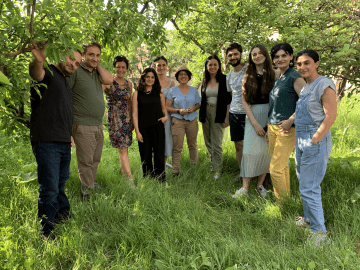 In June, Samkian will travel to Armenia to finally meet her students and conduct an in-person workshop. "She'll be there to oversee the culmination of the project—training scholars in research practices, teaching them to train others and seeing them off as teachers of research methodologies," said Karapetian. "Our hope is that these workshops will continue and expand connections across schools and disciplines at USC and with the Armenian world."