When Rossier donor Cheryl Kyle '62 graduated from the School of Education, she never dreamed she would have an extraordinary two-decade-long relationship with the Maasai in Africa.
The union began in 1992 when she and her late husband left their corporate careers at an international architecture firm and IBM, respectively, to spend three years as missionaries in Tanzania. She returned several months each year to nurture the partnership, often sitting for hours with the Maasai elders under an acacia tree discussing matters of the community and planning future projects together.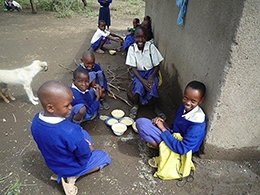 Her work in Tanzania exemplifies the school's mission to improve education on a global scale.
In 2008, the Costa Mesa resident and mother of three was leading a trip back into the bush, known as the Maasai Steppe, when a young guard she knew approached her.
"He said, 'Mama, our kids aren't getting educated,'" Kyle said. "'The government won't provide it, and it's too far for most NGOs. Will you build us a school?'"
At first, she balked at the enormity of the effort but after successfully fundraising for the project, Kyle had the first classroom built within a month.
"Of course, I thought I was done … then 98 children showed up."
Before Endupoto Primary School was built, children had to take an 8-mile trek to get an education, and only a handful made that journey.
The proud Trojan is eager to partner with USC Rossier, and the high-quality teachers the school prepares, to improve practices at Endupoto. Her adventures in Tanzania have given her a greater respect for the teaching profession.
"I've always had a passion for learning and teaching … It started when I went to 'SC, and was influenced by traveling and living outside of my bubble, and embracing other cultures without trying to change them," said Kyle, who recently attended her 50th reunion for the class of '62.
USC Rossier is teaching the future generations of the world, not just America, and future teachers are developing skills that will benefit them for a lifetime," said Kyle, who supports the school's Annual Fund.
"We live in a very privileged place," Kyle said. "Even places that are not as privileged in America cannot compare to the lack of privilege over there. For instance, when they have one pencil, and that's all they have, they cherish that pencil."
"This school is my total passion. I love knowing these Maasai kids are receiving an education," she exclaimed. "When I visit and a little girl or little boy stands up and reads, that is a miracle because they would never have otherwise had the opportunity to learn to read!
"The gift of education is for everyone, everywhere. USC Rossier supports my passion for giving teachers and their students a vision of the entire world."