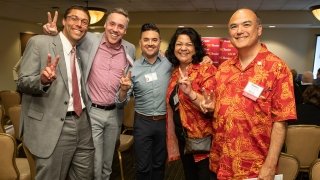 The USC Rossier Initiative, a part of the Campaign for the University of Southern California, offers all of us who care deeply about education the opportunity to positively impact thousands of students, their families and their communities. Your generosity has the power to strengthen the people, research and programs that our transformative work requires. We invite you to help us realize our vision of a world where every student, regardless of personal circumstance, can learn and succeed.
There are many ways you can join us:
Annual Giving
A yearly gift to the USC  Rossier Annual Fund provides the dean with the greatest flexibility to meet the highest priority needs of the school. Giving to the Annual Fund ensures that USC Rossier has the resources necessary each and every year to provide faculty support and student scholarships and to help fund special projects.
The Academy – Leadership Giving
Academy members are among the School's most generous and loyal supporters, whose contributions help USC Rossier maintain the highest level of excellence that produces innovative thinkers, global leaders and pioneering change agents in the world of education. Yearly membership is open to all alumni and friends who make a gift of $500 or more to the USC Rossier Annual Fund, General Scholarship Fund or another area of interest. To learn more about levels of giving and membership courtesies, please visit our Academy page.
Major Gifts
Major gifts—whether for current use and immediate impact, or to establish an endowment for generations of support—have the power to transform research and educational opportunities for USC Rossier faculty and students. Your gift can dramatically advance our work and mission by providing scholarships for outstanding students, or by sustaining innovative faculty work through named professorships, chairs and research centers.
Planned Giving
A planned gift creates a lasting legacy and offers you an opportunity to generate income for life, claim valuable income tax deductions and/or reduce your estate taxes. Planned gifts to USC Rossier will be recognized as a member of USC Trojan Legacy Circle. Membership includes university-wide recognition and a variety of courtesies. For more information on planned giving opportunities, please contact Rachel Beal, Executive Director of Advancement, at 213.821.5378 or bealr@rossier.usc.edu.
Corporate and Foundation Giving
USC Rossier's corporate and foundation partners are essential to achieving the school's mission. The generous support of organizations helps fund critical research and special initiatives to ensure high-quality educational opportunities for all students.
To find out more about how you can help further the USC Rossier Initiative through any of the areas above, contact our advancement team or make your gift today.