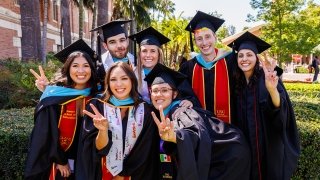 Our goal is to ensure that every talented student can attend USC Rossier and pursue their dream of becoming an educator regardless of their financial situation. Your support for student scholarships expands educational opportunities for future leaders in education, increases the diversity of the field and paves the way to solving education's greatest challenges.
Supporting Emerging Leaders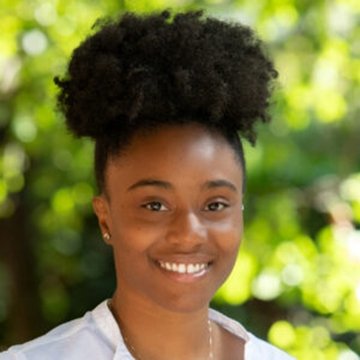 "This scholarship not only impacts my life, but also serves as an investment in the academic success of future students I will serve."
USC Rossier Scholarships & Fellowships
USC awards an average of 150 scholarships to master's and doctoral students each year.
Albert and Amelia De Ferris Endowed Memorial Scholarship
Allan J. Watson Endowed Scholarship
Amy King Dundon Endowed Scholarship
Avery Bayle Barth Endowed Scholarship
Dr. Carlton and Eloise Blanton Endowed Scholarship
C.C. Trillingham Endowed Scholarship
D. Lloyd Nelson Endowed Scholarship
D. Welty Lefever Endowed Scholarship
Douglas William Urmston Endowed Scholarship
Donald Golder Endowed Memorial Scholarship
Doris T. Westcott Endowed Scholarship
Dudley and Patricia Poon Endowed Scholarship
Edward E. Hawkins Endowed Scholarship
Eileen Stoops Gardner Scholarship
Eli & Mary Elizabeth Stoops Endowed Scholarship
Elizabeth Kennedy Endowed Scholarship
Emery and Emerson F. Stoops Endowed Scholarship
Emery and Joyce King Stoops Endowed Scholarship
Erma Lee Meler Family Endowed Scholarship
Eugene A. Mohler Endowed Scholarship
Frank Ewell Williamson EdD Endowed Scholarship
Dr. Gerald S. Hasterok Endowed Memorial Scholarship
Grayce Ransom Endowed Scholarship
Hanako Fukuda Endowed Scholarship
Harold W. Cook Endowed Scholarship
Helen E. Brown Endowed Scholarship
Helen Drake Smetz Endowed Scholarship
Helen Lees Walter Memorial Endowed Scholarship
Helen Lynch Niersbach Endowed Memorial Scholarship
Hortencia M. Torres Endowed Scholarship
Ila Rehwold Endowed Scholarship
James and Candace Chan Yee Endowed Scholarship
James Patterson Teacher Education Scholarship
Joseph T. Parker Endowed Scholarship
Judith Manning Grayson Endowed Memorial Scholarship
Kessler and Virginia P. Wicks Endowed Scholarship
Kevin Reilly Endowed Scholarship
Lionel De Silva Endowed Scholarship
Lucille Boyle Fellowship Endowment
Dr. Margaret E. Smart Endowed Scholarship
Mary S. and Howard L. Reed Endowed Scholarship
Dr. Michael J. Wilson and Mrs. Jerrilyn Wilson Scholarship
Nancy Reagan Endowed Teacher Scholarship
Neil Matsumori Endowed Scholarship in Education
Norma Lash Wilbur Endowed Scholarship
Patrick O. Rooney Endowed Education Scholarship
Paul H. Henkin Graduate Student Endowed Scholarship
Paul Edward "Ed" Dundon Endowed Scholarship
Paul Yokota Endowed Scholarship
Dr. R. Bruce Walter Endowed Memorial Scholarship
Rae Lee Morris Endowed Scholarship
Richard B. Horne Educare Endowed Memorial Scholarship
Robert and Amy Cardona Endowed Scholarship
Robert E. Cralle Endowed Scholarship
Robert Irving Fatt Endowed Memorial Scholarship
Roy Hill Endowed Student Aid Fund
Rudolf and Hazel Hatton Endowed Scholarship
Ruth Russell Shelby Endowed Scholarship
Ruth Thayer Endowed Scholarship
Theodore Hsi-En and Wen-Hui Chen Endowed Scholarship
Trojan League of Orange County (TLOC) Scholarship
Una B. Cameron Endowed Scholarship
Dr. Verna B. Dauterive and Peter W. Dauterive Endowed Scholarship
Virginia G. Olson Endowed Scholarship
Wallis Annenberg Endowed Scholarship
Wendell Cannon Endowed Memorial Scholarship
Dr. Yu-Kai Wang and Mrs. Alice Ah-Chu Wang Endowed Scholarship