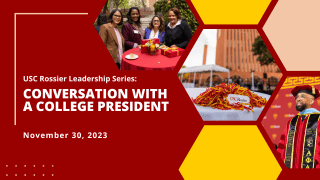 USC Rossier Leadership Series: Conversation with a College President
The USC Rossier Leadership Series is designed to bring thought partners together to support future leaders, empower those already in leadership roles, and highlight the impact of the USC Rossier Trojan Family.
Join us for an engaging conversation with Dr. Ryan Cornner, Superintendent/President of Glendale Community College.
Dr. Cornner will discuss his vision for the future of Glendale Community College and how he is working to create an inclusive and equitable environment for all students. He will also share his insights on the challenges and opportunities facing community colleges today. We will discuss his career journey and how his experience at USC Rossier has impacted his leadership.
Dr. Ryan Cornner is a native of Southern California and has a long history of working in the community college system. He is committed to student success and has a proven track record of innovation and leadership. Dr. Corner earned his Doctor of Education and Master of Social Work at the University of Southern California. He also holds a Bachelor of Science in Psychology from UC San Diego.
Alumni, students, faculty, staff, and friends are invited to participate.