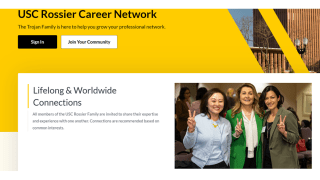 Launching Your Career Network
Are you ready to relaunch your career network? We have relaunched the USC Rossier Career Network to help you make meaningful connections and access the tools and resources you need. Join USC Rossier Career Services manager, Ryan Alcantara, Ph.D., and the Director of Alumni Engagement, Tom Arteaga for an overview of your career network platform.
The USC Rossier Career Network is an exclusive platform for the Trojan Family to build a professional network of alumni, students, faculty, and staff. Learn how to leverage these resources and make new connections that will have an impact on your professional journey.
Our 20-minute overview will cover the basics as well as exploring career pathways, searching for job opportunities with alumni connections, and helping you find people with shared identities and interests.
Make sure you set up your profile before this event at rossier.peoplegrove.com
This webinar is for alumni, students, faculty and staff of USC Rossier School of Education.