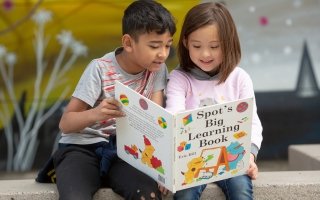 Reading and Literacy Added Authorization
This program is designed for current teachers. Under the new Common Core State Standards, teachers must be able to help students use "complex and varied" texts to learn how to access and understand information. Are you prepared?
The USC Reading and Literacy Added Authorization program is designed to help you become a literacy expert. The knowledge and skills that you will gain will help you:
apply the progression of reading and writing development in your instruction
analyze data from diagnostic tools to determine students' reading and writing needs, and
create and teach lessons to address students' identified reading and writing needs.
With these skills, you will be well-prepared to help your students develop into proficient and advanced readers and writers.
USC Reading and Literacy Added Authorization Program (Added Authorization) is approved by the California Commission on Teacher Credentialing.
Curriculum
The USC Rossier Reading and Literacy Added Authorization program will help you:
Plan, evaluate and implement K-12 Reading/Language Arts programs effectively.
Diagnose reading difficulties using a battery of assessments to identify students' reading needs.
Design comprehensive instructional plans to remediate reading instruction.
Create a professional dossier that catalogues your literacy expertise.
Develop lifelong access to USC. As part of the Trojan Network, you will have access to resources and support, even after program completion.
Coursework
The program consists of four online courses taken over two semesters.
Term 1 – Fall
Provides you with the theoretical understanding to diagnose, plan and select appropriate and effective literacy instruction.
Foundations of Reading Instruction – You will develop expertise in literacy research, pedagogy, policy and essential concepts of diversity and equity as you engage in reflective assignments designed to help you create comprehensive literacy instruction/curricula accessible to all learners. Throughout the course, you will examine literacy instruction and learning environments using an equity lens to ensure all learners including those with ethnic, cultural, gender, linguistic, socio-economic differences have access to high-quality and research-based instruction. You will also engage in critically reflective practices to develop an in-depth understanding of how to use reading strategies and instruction across reading profiles.
Diagnosis of Reading Disabilities – You will focus on theoretical, social and practical considerations regarding the causes and classification of reading difficulties within school environments. You will learn how to properly diagnose students' literacy needs using a comprehensive approach that will help you determine the appropriate instruction required. Through guided reflections and written analysis of data–from assessments and students' perspectives–you will develop expertise in how to use data to discover useful information that will support your instructional decision-making process as a reading teacher.
Term 2 – Spring
Provides you with the skills and competencies to design and provide instruction tailored to students' literacy needs.
Teaching Writing: Research to Practice – You will develop professional content knowledge for the teaching of writing by exploring the different stages of writing development. A specific focus of the course includes how students' home language, background knowledge, instructional practices, analysis of assessment data, and interdisciplinary approaches support the development of proficient writers. Different writing methods, types of writing, modalities and technologies will be studied to help you create and implement a curriculum that embeds writing across the disciplines.
Remediation of Reading Disabilities – You will learn how to design instruction that is specifically tailored to your students' literacy needs. Using a problem-solving process to re-mediate students' reading needs and different research-based instructional methods, you will learn how to develop students' metacognitive and self-regulatory skills to meet higher levels of literacy demands. Informed by the other three courses in the program, you also create a literacy leadership plan to address an identified need for your school/district. The course will conclude with you producing a Professional Dossier that catalogues your learning and your students' achievement throughout the duration of the program.
---
Continuing Education Units
CEU credits are available for this program if you complete all modules and requirements. CEUs are recognized nationwide as a standard measurement of an Individual's continuing education activity and serve as a permanent documentation of your professional development coursework and are presented in the form of a University transcript.
 
Tuition
Program fees: $4,000 for the program. Tuition due at the time of registration.
Registration
*As of June 1, 2023, we are now full for the 2023-2024 academic year. Thank you*
Eligibility Requirements
If you are interested in obtaining the Reading and Literacy Added Authorization from the California Commission on Teacher Credentialing (CTCC), you must:
Have a valid Teaching or Designated Subjects Credential.
Hold English Learner Authorization.
Submit verification of experience. You must complete a minimum of three years successful, full-time teaching experience in any grade or subject matter. Acceptable experience does not include student teaching, internship teaching, or teaching while holding an emergency permit. This experience may include teaching outside of California.
Complete all required coursework with a grade of B+ or higher.
Meet the standards of candidate competence and performance of the Reading and Literacy Added Authorization Certificate Program.
NOTE: Registration is accepted through an online registration system. This system provides secure access for all personal and payment information. For security reasons, we ONLY accept online registrations.
USC Reading and Literacy Added Authorization program past participants currently hold these positions:
Reading teacher
Literacy consultant
Literacy coach/coordinator
Teacher on special assignment
Intervention coordinator/specialist
Resource specialist
Private reading consultant