The Academy: Leadership Giving
Academy members are among the school's most generous and loyal supporters. These alumni and friends have an immeasurable impact on helping USC Rossier maintain the highest level of excellence that produces innovative thinkers, global leaders and pioneering change agents in the world of education.
Membership is open to all alumni and friends of USC Rossier who make leadership annual gifts of $1,000 or more. Gifts may be designated to the USC Rossier Annual Fund, Dean's Fund for Advancing Educational Equity, General Scholarship Fund or another area of interest. 
Levels of Giving
Total gift amount may include matching funds to Rossier.
Annual Members
Laureate Society – $100,000 (lifetime) 
Masters – $10,000+
Fellows – $5,000
Scholars – $2,500
Mentors – $1,000
Membership Courtesies
Academy Members enjoy a wide range of courtesies, including:
Invitation to USC Rossier's Leaders in Giving donor recognition event
Complimentary tickets to the USC Associates Football Picnic hosted by USC Rossier (game tickets not included)
Complimentary tickets to the USC Rossier Homecoming Picnic (game tickets not included)
The Laureate Society
The Laureate Society recognizes individual donors who have supported USC Rossier with cumulative gifts, pledges, stock or property, corporate matching gifts or qualifying gifts of $100,000 or more during their lifetime. 
Members are invited into the society by the USC Rossier Dean and receive a lapel pin commemorating their membership. Individual donors have played a vital role in shaping the school's legacy and the Laureate Society provides the means to recognize our loyal and generous supporters. 
Laureate Society members enjoy all the courtesies in The Academy in addition to an annual lunch with the USC Rossier Dean.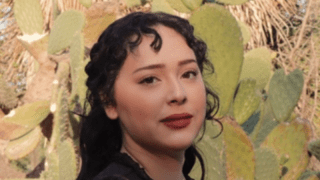 Ana Zamora Mazo MA '23
"I am a first-generation undocumented low-income Latina. It would have been practically impossible for me to earn my Master of Arts in Teaching without a scholarship. I am beyond grateful that I was given a chance to advance my education. I am the eldest in my family, the first to get a B.A., and now in the process of a Master's degree ‒ it simply feels surreal. All made possible through a very generous donation."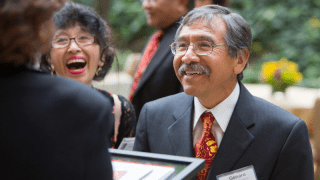 Genaro F. Carapia MS '84
"My wife, Lai Tan, and I support Rossier because we truly believe that one of education's most cherished virtues is HOPE. Our annual gift supports future educators and administrators who will truly make a difference in shaping young minds."
Learn More
For more information about The Academy, reach out to Rachel Beal.