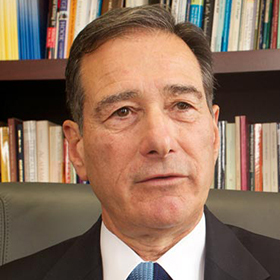 Jerome A. Lucido
Professor of Practice, Executive Director of the Center for Enrollment Research, Policy and Practice, ,
PhD, University of Arizona
Concentration
Higher Education
Expertise
College Admissions • Higher Education Access
Jerome A. Lucido
Jerome A. "Jerry" Lucido is professor of practice and executive director of the USC Center for Enrollment Research, Policy, and Practice at USC Rossier. He is also executive director of the USC Center for Enrollment Research, Policy, and Practice. His areas of expertise include college admissions, higher education access and enrollment management.
Lucido has played a leading role at the national level in initiatives to improve access for low-income and underrepresented students and to design and execute effective and principled college admission and enrollment management practices. Lucido has also been the chair and a national presenter for the College Board's Task Force on Admissions in the 21st Century, the Vice Chair of the Commission on Access, Admission, and Success in Higher Education, and a member of the Low Income Task Force.
From August 2006-July 2010, Lucido served as USC's Vice Provost for Enrollment Policy and Management, responsible for undergraduate and graduate admission, financial aid, academic records and registration, graduation rates initiatives, and enrollment policy. While Vice Provost, Dr. Lucido also served as a trustee of the College Board. Lucido came to USC from the University of North Carolina at Chapel Hill, where he guided enrollment planning and management, and oversaw the Offices of Undergraduate Admissions, Scholarships and Student Aid, and the University Registrar. Lucido holds a Ph.D. degree in higher education from the University of Arizona, a M.Ed. degree from Kent State University, and a B.S. degree in business administration from Miami University in Oxford, Ohio.
Edit Profile