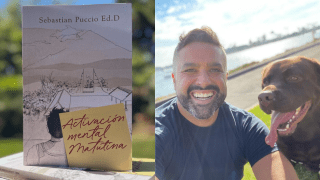 About the Author: Dr. Puccio
USC Rossier About the Author series introduces our community to a USC alumni author. We will explore the authors latest work and learn about their process to get published. This episode features the inspiring work of Sebastian Puccio, EdD., an Argentine American educator, advocate, and public speaker.
Dr. Puccio's Morning Mental Activation is an inspiring guide towards self-discovery and awakening. The book is designed to help you better understand how to take the next right step, as life presents itself with challenges. Often, we feel that we lack answers when we most need them, but all we need to know is already within us. It is through the cognitive process of writing a message to yourself, and actively reading it daily as part of your morning routine that the answers awaken within you.
This program is open to alumni, students, faculty, staff and friends.