Admission
Fast-track your career goals. Learn key information about the MAT Progressive Degree prerequisites and application process.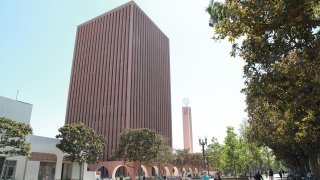 Prerequisites 
To enroll in the MAT Progressive degree program, you must:
Be a current, full time USC undergraduate student who has completed between 64 and 96 units
Possess a 3.2 GPA or higher
Note regarding felonies and misdemeanors: To obtain a teaching credential, the California Commission on Teacher Credentialing (CTC) requires credential applicants to disclose convictions of a felony or misdemeanor. While a felony or misdemeanor will not necessarily prevent you from being admitted to the program, you may not be eligible to participate in student teaching, which is a requirement of the program.
Note regarding international students: To complete teaching credential requirements, you must obtain a Social Security number (SSN) from the United States Social Security Administration. Contact the Office of International Services for assistance. 

Application Process
Schedule an advising appointment with Crystal Conley, USC Rossier undergraduate program advisor.
Complete the USC Progressive Degree Program application, which includes:

A proposed course plan with the assistance of your undergraduate major advisor and the USC Rossier undergraduate program lead.
Two recommendation letters from USC faculty (USC Rossier faculty, if possible).
Optional third recommendation letter from someone who can speak to your ability or experience as a future educator.
Signatures from your undergraduate school program chair and dean, and the USC Rossier program chair and dean.
Updated STARS report.

Write the required essays. Responses to essay questions should be double-spaced with a 12-point font and one-inch margin on all sides. Include your full name at the beginning of each document.

Personal Statement – 500 words or less
Write a personal statement that describes your interest in the Master of Arts in Teaching (MAT) program and your purpose for becoming a teacher. Share what you believe are important aspects of your personal, family, professional, cultural or academic background that may aid the admission committee in understanding your interest, qualifications and motivation for becoming a teacher.
Short Answer – 250 words or less
Explain how your values align with the mission of the USC Rossier School of Education and the ways you plan to contribute to our academic and professional community.
Optional Essay – 250 words or less
To aid the admission committee in evaluating your application, use this essay to discuss anything in your academic and/or professional history that may require additional explanation. This essay is optional.

Update your resume. Your résumé should be detailed enough to help the admission committee understand the various experiences – extracurricular, leadership or volunteer – that have shaped your interest in the program. Outline your roles and responsibilities within each organization and highlight any special achievements or accomplishments.
Submit all application materials by email to clconley@usc.edu.