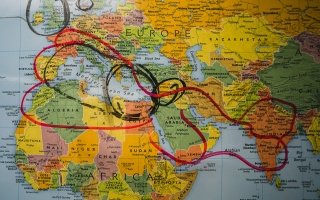 Global Teacher Institutes
Teacher Training Institutes are designed for emerging and seasoned teaching and administrative professionals in all educational settings and related fields.  Each institute is customized to meet the specific needs of our university partners from around the globe.
Curriculum
Teacher Training Institutes are designed for cohort groups and campus teams who want to develop instructional, administrative, managerial or leadership expertise in K-12 through higher education.  Instruction is student-centered and delivers pedagogies, learning theories and best practices grounded in research-based strategies. Institutes can run from one week to two months in duration depending upon client needs.
Teacher Training Institute highlights:
K-12 Curriculum Development and Instruction
Topics covered in this Institute include:
K-12 Curriculum Design and Instruction in the US and the Common Core Standards
What is Equity Education? Aligning Your Curricula with DEI
Research-Based Instruction: Strategies that Promote Student Achievement
Aligning Objectives, Instructional Activities and Assessment throughout the On-line and On-ground Curriculum
Developing Students' Motivation and Self-Regulation Skills in a Remote Learning Environment
Inquiry-Based Learning
TESOL/Content Delivery in English
Topics covered in this Institute include:
Bilingual, Immersive and Distance Language Education in the US
Research-Based Instruction: Strategies that Promote L2 Student Achievement
English Language Reading and Writing Workshops
English Language Pronunciation Workshops (lab-site component)
Leadership and Internationalization
Topics covered in this Institute include:
What is Transformational Leadership in Today's Shifting learning Environment?
Internationalization Efforts: Challenges and Opportunities
The Role of College Admissions
Student Well-Being and Optimal Learning
 
Each of our Teacher Training Institutes provides a menu of options for you to choose and customize your program. You can choose from the options below:
School site visits tied to course instruction
Observations and co-teaching opportunities
USC campus dorm, apartment or approved housing with secure access
Flexible meal plans for USC dining halls, restaurants and coffee shops
Campus orientation and tour
Access to all campus facilities (libraries, health center, gym, pool, computer labs)
Cultural and recreational weekend visits
Visa and immigration advising
Airport transfers
Welcome reception, closing ceremony
Certificate of completion
Customize Your Own Institute
You can also customize a program to meet your specific needs. Please contact our office to discuss your options.
Tuition and Registration
Program Fees
Program fees are dependent on the program design.
Registration
For more information about registration for our Global Teacher Institutes, please contact us.
 
Program Details
Program Cost
Dependent on the program's design.
Take the Next Step
Please contact us to discuss enrollment options.