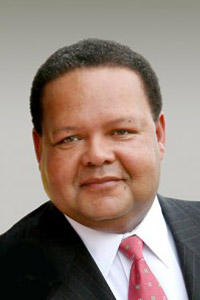 Rudolph Crew
Professor of Clinical Education
EdD, University of Massachusetts at Amherst
Contact info
Concentration
K-12 Education Policy
Rudolph Crew
Dr. Rudolph (Rudy) Crew is a lifelong educator whose career included the chancellorship of the nation's largest school district, the New York City Department of Education, where he served from 1995-99. He joined USC Rossier in 2009 after serving as superintendent of the nation's fourth-largest school district in Miami-Dade County, Florida since 2004. He is a nationally renowned educator and education policy opinion leader. Crew recently was called upon to advise the transition team of President Barack Obama in the formulation of national education policy and now serves on the President's Education Policy Council.
Under his leadership at Miami-Dade County Public Schools, the district progressed dramatically on several fronts. Among the highlights were rising student achievement levels, higher academic and conduct standards, and dramatically reduced overcrowding, including a 91 percent decrease in the student-station deficit. The system is now viewed as a model for other districts across the nation.
As chancellor of New York City Public Schools, Crew led a number of reforms, including the adoption of curriculum standards for all schools, elimination of tenure for principals and introduction of school-based budgeting. He also was instrumental in closing failing schools and replacing failing educators.
As an author, his publication, Only Connect: The Way to Save Our Schools, has guided public discussion. Crew has received many honors, including the 2008 AASA National Superintendent of the Year. He is an associate in education at the Harvard Graduate School of Education, where he has been part of the Urban Superintendent Program since 1992.
Edit Profile