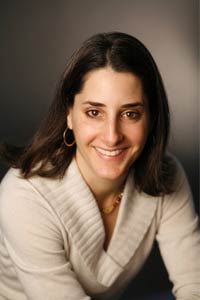 Mary Helen Immordino-Yang
Associate Professor of Education, Psychology & Neuroscience
Concentration
Educational Psychology
Expertise
Expert in the neuroscience of learning, creativity, culture, morality and social interaction.
Links
Mary Helen Immordino-Yang
Mary Helen Immordino-Yang, EdD, studies the psychological and neurobiological bases of social emotion, self-awareness and culture and their implications for learning, development and schools. She is an Associate Professor of Education at the Rossier School of Education, an Associate Professor of Psychology at the Brain and Creativity Institute, and a member of the Neuroscience Graduate Program Faculty at the University of Southern California. A former urban public junior high school science teacher, she earned her doctorate at Harvard University in 2005 and completed her postdoctoral training with Antonio Damasio and Robert Rueda in 2008. Since then she has received numerous local, national and international awards for her research and for her impact on education.
Immordino-Yang was elected 2016-2018 president of the International Mind, Brain and Education Society by the society's membership (www.IMBES.org). She is serving as a distinguished scientist on the Aspen Institute's National Commission on Social, Emotional and Academic Development, where she was selected to the sub-committee of six scientists and educators drafting a working definition of SEAD. She is appointed to the National Academies of Sciences, Engineering, and Medicine's Committee on the Science and Practice of Learning (i.e., the committee writing, How People Learn II). In 2015-2016, Immordino-Yang was selected by the AERA leadership as one of thirty scholars to participate in the AERA Knowledge Forum centennial initiative. Immordino-Yang is associate Editor for the award-winning journal Mind, Brain and Education and for the new journal AERA Open. She is on the editorial boards of the Journal of Experimental Psychology: General, Cogent Psychology and Culture and Brain.
Among other funded work, Immordino-Yang has a cross-cultural, longitudinal NSF CAREER study investigating adolescent brain and social-emotional development, and relations to school and life achievement in urban contexts. She is currently also PI for a school-based intervention study of the role of students' social-emotional competencies in academic success, funded by the Templeton Foundation via the UPenn Imagination Institute. She is PI on a study of the neural and psychosocial correlates of mindsets in low-SES adolescents from two cultural groups, funded by the Raikes Foundation via the Stanford Mindsets Scholars Network. Immordino-Yang collaborates with ABC Unified School District, Manhattan Beach USD, Cerritos College, Rowland USD, and Los Angeles USD in her work. She serves as scientific adviser to several Los Angeles schools/districts.
Immordino-Yang's 2015 book, Emotions, learning and the brain: Exploring the educational implications of affective neuroscience, is available from W.W. Norton publishers (author proceeds are donated to education-related causes). http://books.wwnorton.com/books/Mary-Helen-Immordino-Yang/
Experience
Honors and Awards:
APA Division 8 (Society for Personality & Social Psychology) presidential nominee to the 2016 Spielberger EMPathy (Emotion, Motivation and Personality) Symposium
FABBS Foundation Early Career Impact Award, 2015
AERA Early Career Award, 2014
AAAS Early Career Award for Engaging the Public with Science, 2014
Rossier Award for Mentoring Postdoctoral Fellows, 2014
Awarded an "Honor Coin" of the United States ARMY, 2012
Received a "Commendation" from the County of Los Angeles, 2011
Named a "Rising Star" by the Association for Psychological Science, 2011
Inaugural recipient of the Transforming Education through Neuroscience Award, IMBES, 2008
Awarded the PNAS Editorial Board's Cozzarelli Prize, 2010
Contracts/Grants:
Immordino-Yang's research is/has been supported by the NSF, NIH, NICHD, DARPA, the Raikes Foundation, the ECMC Foundation, the Templeton Foundation (Imagination Institute at U PENN), the Institute for New Economic Thinking, the USC Provost, the Rossier School of Education, and other sources.
Selected Publications
Selected Articles in Human Development and Education
Immordino-Yang, M.H. & *Gotlieb, R. (2017, in press) Embodied brains, social minds, cultural meaning: Integrating neuroscientific and educational research on social-affective development. American Educational Research Journal, Centennial Issue.
Immordino-Yang, M.H. (2016) Emotion, sociality, and the brain's default mode network: Insights for educational practice and policy. Policy Insights from the Behavioral and Brain Sciences. 3(2), 211-219 http://journals.sagepub.com/doi/abs/10.1177/2372732216656869
*Gotlieb, R., *Hyde, E., Immordino-Yang, M.H., Kaufman, S.B. (2016) Cultivating the Social-Emotional Imagination in Gifted Education: Insights from Educational Neuroscience. Annals of the New York Academy of Sciences, 1377(1), 22-31.
Immordino-Yang, M.H., Christodoulou, J., Singh, V. (2012). Rest is not idleness: Implications of the brain's default mode for human development and education. Perspectives on Psychological Science, 7(4), 352-364.
Immordino-Yang, M. H. (2010). Toward a microdevelopmental, interdisciplinary approach to social emotion. Emotion Review, 2(3), 217-220.
Immordino-Yang, M.H. & Sylvan, L. (2010). Admiration for virtue: Neuroscientific perspectives on a motivating emotion. Contemporary Educational Psychology, 35(2), 110-115.
Immordino-Yang, M.H. (2008). The smoke around mirror neurons: Goals as sociocultural and emotional organizers of perception and action in learning. Mind, Brain, and Education, 2(2), 67-73.
Immordino-Yang, M.H. (2007). A tale of two cases: Lessons for education from the study of two boys living with half their brains. Mind, Brain and Education, 1(2), 67-83.
Immordino-Yang, M.H. & Damasio, A.R. (2007). We feel, therefore we learn: The relevance of affective and social neuroscience to education. Mind, Brain and Education, 1(1), 3-10.
Selected Articles in Psychology and Social Neuroscience
Immordino-Yang, M.H. & *Yang, X.-F. (2017, in press) Cultural differences in the neural correlates of social-emotion experiences: An interdisciplinary, developmental perspective. Current Opinion in Psychology, Special Issue on Emotion.
Immordino-Yang, M.H., *Yang, X. & Damasio, H. (2014) Correlations between social-emotional feelings and anterior insula activity are independent from visceral states but influenced by culture. Frontiers in Human Neuroscience. 8:728. doi: 10.3389/fnhum.2014.00728
Saxbe, D., Yang, X., Borofsky, L., Immordino-Yang, M. H. (2013). The embodiment of emotion: Language use during the feeling of social emotions predicts cortical somatosensory activity. Social Cognitive and Affective Neuroscience, 8, 806-812 doi: 10.1093/scan/nss075. (First published online: 2012)
Immordino-Yang, M.H. & Singh, V. (2013). Hippocampal contributions to the processing of social emotions. Human Brain Mapping, 34(4), 945-955. doi: 10.1002/hbm.21485 (First published online: 2011)
Immordino-Yang, M.H. (2013). Studying the Effects of Culture by Integrating Neuroscientific with Ethnographic Approaches. Psychological Inquiry: An International Journal for the Advancement of Psychological Theory, 24(1), 42-46.
Yang X-F, Bossmann J, Schiffhauer B, Jordan M and Immordino-Yang MH (2013) Intrinsic default mode network connectivity predicts spontaneous verbal descriptions of autobiographical memories during social processing Frontiers in Cognition. 3:592. doi: 10.3389/fpsyg.2012.00592
Immordino-Yang, M.H., McColl, A., Damasio, H., Damasio, A. (2009). Neural correlates of admiration and compassion. Proceedings of the National Academy of Sciences, 106(19), 8021-8026.
Selected Book chapters
Immordino-Yang, M.H. (2014, in press) Embodied brains, social minds: Toward a cultural neuroscience of social emotion. In, Chiao, J., Li, S.-C., Seligman, R., Turner, R. (Eds.), Oxford Handbook of Cultural Neuroscience. Oxford: U.K.: Oxford University Press.
Immordino-Yang, M.H. & Christodoulou, J.C. (2014) Neuroscientific contributions to understanding and measuring emotions in educational contexts. In R. Pekrun & L. Linnenbrink-Garcia (Eds.), International handbook of emotions in education. (pp. 607-624) New York, NY: Taylor and Francis/Routledge
Immordino-Yang, M.H. & Singh, V. (2011). Perspectives from social and affective neuroscience on the design of digital learning technologies. In R. Calvo & S. D'Mello (Eds.), New Perspectives on Affect and Learning Technologies. (pp.233-241) Sydney: Springer
Immordino-Yang, M. H. & Faeth, M. (2009). The role of emotion and skilled intuition in learning. (pp.66-81) In D. A. Sousa (Ed.), Mind, Brain, and Education. Bloomington, IN: Solution Tree Press.
Immordino-Yang, M.H. & Fischer, K.W. (2010). Neuroscience bases of learning. In V. G. Aukrust (Ed.), International Encyclopedia of Education, 3rd Edition. (pp.310-316) Oxford: Elsevier.
Selected Laboratory Conference Papers/Posters
Yang, X.-F. & Immordino-Yang, M. H. (November, 2013). Resting cardiac vagal tone is inversely related to intrinsic functional connectivity within the salience network. Poster presented at the Annual meeting of the Society for Neuroscience, San Diego, CA.
Yang, X.-F., Wong, S. W. H. & Immordino-Yang, M. H. (June, 2012). Heart rate deceleration predicts BOLD activity in default mode regions during emotion processing. Presented as a poster and invited talk at the 18th annual meeting of Human Brain Mapping, Beijing, China.
Yang, X.-F., Pavarini, G., Schnall, S., Immordino-Yang, M. H. (May, 2012). Spontaneous gaze aversion during interview-induced moral elevation predicts subsequent default network activation. Presented at the 2012 Association for Psychological Science Convention, Chicago, IL.
Edit Profile