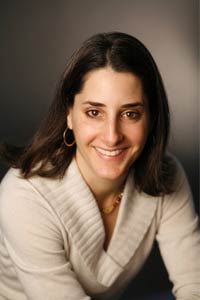 Mary Helen Immordino-Yang
Assistant Professor of Education and Psychology
Concentration
Educational Psychology
Expertise
Expert in the neuroscience of learning, creativity, culture, morality and social interaction.
Links
Mary Helen Immordino-Yang
Mary Helen Immordino-Yang, EdD is an affective neuroscientist and human development psychologist who studies the neural, psychophysiological and psychological bases of social emotion, self-awareness and culture and their implications for development and schools. She is an Assistant Professor of Education at the Rossier School of Education, an Assistant Professor of Psychology at the Brain and Creativity Institute, and a member of the Neuroscience Graduate Program Faculty at the University of Southern California. She was formerly a postdoctoral fellow at USC under the mentorship of Robert Rueda and Antonio Damasio.
Immordino-Yang has an NSF CAREER award and is the inaugural recipient of the Award for Transforming Education through Neuroscience. She and her co-authors received the 2010 Cozzarelli Prize from the U.S. National Academy of Sciences for the most distinguished paper of the year in the behavioral and social sciences category, for the paper, "Neural correlates of admiration and compassion." PNAS, 106(19), 8021-8026. In 2011 she was named a "Rising Star" by the Association for Psychological Science, and received a Commendation from the County of Los Angeles for commitment to translational research in neuroscience and education. In 2012 she received an honor coin from the U.S. ARMY for educational contributions toward supporting soldiers' development of cultural literacy and compassion.
Immordino-Yang is the Associate Editor for North America for the award-winning journal Mind, Brain and Education. She is on the editorial boards of the Journal of Experimental Psychology: General and Culture and Brain. She was elected to the governing board of the International Mind, Brain and Education Society, and serves on multiple school/educational advisory boards, among them Long Trail School (in VT), the Ross School Innovation Lab: Science, Math and Engineering Academy (in NY), and the University of New Mexico Family Development Program. She has served as a scientific mentor/adviser to several Los Angeles schools/districts, among them Troy High School, Marlboro School, Manhattan Beach Schools and Milken Academy. In 2012 she is launching a collaborative research project with ABC Unified School District, Cerritos College, Rowland Unified School District, and Huntington Park High School.
A former junior high school teacher, Immordino-Yang earned her doctorate at the Harvard University Graduate School of Education, where she was the recipient of grants from the Spencer Foundation and the American Association of University Women Educational Foundation. She lectures nationally and abroad on the neural and psychosocial implications of brain and cognitive science research for curriculum and pedagogy. She is the content director for a new online, free course for teachers on learning and the brain, funded by the Annenberg Media Foundation: www.learner.org/courses/neuroscience
Experience
Honors and Awards:
Named the 130 th most influential scholar in education in 201 2, RHSU Edu-Scholar Public Presence rankings (reflecting scholarly contributions and presence in public discourse ); http://blogs.edweek.org/edweek/rick_hess_straight_up/2013/01/the_2013_rhsu_edu-scholar_public_presence_rankings.html
Awarded an "Honor Coin" of the United States ARMY by the Commandant of the Non - Commissioned Officer Academy, XVIII Airborne Corps, for contributions toward supporting soldiers' development of cultural literacy and compassion
Selected Publications
Articles in peer-reviewed journals
Immordino-Yang, M.H. & Singh, V. (2013). Hippocampal contributions to the processing of social emotions. Human Brain Mapping, 34(4), 945-955. doi: 10.1002/hbm.21485 (First published online: 2011)
Immordino-Yang, M.H. (2013). Studying the Effects of Culture by Integrating Neuroscientific with Ethnographic Approaches. Psychological Inquiry: An International Journal for the Advancement of Psychological Theory, 24(1), 42-46.
Yang X-F, Bossmann J, Schiffhauer B, Jordan M and Immordino-Yang MH (2013) Intrinsic default mode network connectivity predicts spontaneous verbal descriptions of autobiographical memories during social processing Frontiers in Cognition.. 3:592. doi: 10.3389/fpsyg.2012.00592
Book chapters, monographs, edited books
Immordino-Yang, M.H. & Christodoulou, J.C. (2013, in press) Neuroscientific contributions to understanding and measuring emotions in educational contexts. In R. Pekrun & L. Linnenbrink-Garcia (Eds.), Handbook of emotions in education. Taylor and Francis/Routledge
Immordino-Yang, M. H. & Faeth, M. (2009). The role of emotion and skilled intuition in learning. (pp.66-81) In D. A. Sousa (Ed.), Mind, Brain, and Education. Bloomington, IN: Solution Tree Press.
Immordino-Yang, M.H. & Singh, V. (2011). Perspectives from social and affective neuroscience on the design of digital learning technologies. In R. Calvo & S. D'Mello (Eds.), New Perspectives on Affect and Learning Technologies. (pp.233-241) Sydney: Springer
Immordino-Yang, M.H. & Fischer, K.W. (2010). Neuroscience bases of learning. In V. G. Aukrust (Ed.), International Encyclopedia of Education, 3rd Edition. (pp.310-316) Oxford: Elsevier.
Selected Laboratory Conference Papers/Posters
Yang, X.-F., Wong, S. W. H. & Immordino-Yang, M. H. (June, 2012). Heart rate deceleration predicts BOLD activity in default mode regions during emotion processing. Presented as a poster and invited talk at the 18th annual meeting of Human Brain Mapping, Beijing, China.
Yang, X.-F., Pavarini, G., Schnall, S., Immordino-Yang, M. H. (May, 2012). Spontaneous gaze aversion during interview-induced moral elevation predicts subsequent default network activation. Presented at the 2012 Association for Psychological Science Convention, Chicago, IL.
Edit Profile