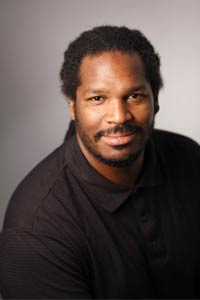 Alan G. Green
Associate Professor of Clinical Education
PhD, Howard University
Concentration
Educational Psychology
Expertise
Expert on urban education, and achievement and mental health among African American teen.
Alan G. Green
Dr. Alan Green joined Rossier in July 2009 as Associate Professor of Clinical Education and School Counseling Program Lead. He came from Johns Hopkins University School of Education, where he served most recently as chair of the Department of Counseling and Human Services. He earned a doctorate in counseling psychology from Howard University in Washington, DC and a master's degree in school and community counseling from California State University in Sacramento. Green was the recipient of a Fulbright Fellowship for his doctoral work in Guyana on adolescent stressors, coping responses and psychological adjustment. Prior to his appointment at Johns Hopkins, he was an adjunct professor in the Department of Applied Psychology at New York University and a clinical psychology intern at the Maryland Department of Safety and Corrections. In addition to his academic duties, Green served as Associate Director of the Johns Hopkins Urban Health Institute, member of the Hopkins Provost Advisory Committee, board member of Advocates for Children and Youth, and previously executive board liaison for the Empowerment Academy Charter School.
Green's current research interests include: urban school counseling; urban education; African American adolescent achievement, mental health and wellbeing; and interdisciplinary approaches to urban development and community empowerment. His most recent research projects were funded by the Johns Hopkins Urban Health Institute and the U.S. Department of Education. Green was the principal investigator for "Project Inspiration", a federally funded Urban School Counseling demonstration program for the Baltimore City Public School System.
Green is a widely sought-after project evaluator and consultant to educational institutes and projects in the Greater Baltimore area. A sample of his past and current community projects include the Community Social Mapping Project, East Baltimore Education Initiative, the Maryland State Department of Education IDEA Partnership, the West Baltimore Middle School Targeted Student Support Services Project, the Malcolm X Middle School Mental Health Behavioral Support Program, the Merritt Education Center School-Based Mental Health Behavioral Support Program, and the Meade Middle School Community Partnership Initiative. In addition, Green has served as a consultant to the Baltimore City Juvenile Justice Center, the Charles H. Hickey, Jr. School, and the Connexions Academy in Baltimore. Green was a recipient of the 2006 Counselors for Social Justice 'Ohana Honors Award for his efforts to affirm diversity and advocate for social justice.
Experience
Professional Experience:
Affliations
American Black Psychologists Association
American Counseling Association
American Education Research Association
American School Counseling Association
Edit Profile