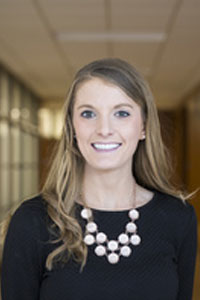 Rachel Sue White
Postdoctoral Scholar Research Associate
PhD, Education Policy, Michigan State University

MA, Education Policy & Leadership, The Ohio State University

BA, Public Policy, University of Michigan
Concentration
K-12 Education Policy
Rachel Sue White
Experience
Research:
Rachel's research integrates quantitative and qualitative methods to explore how institutions, politics, and organizational structures influence state and local education policy making and implementation processes. In particular, her research agenda is framed by three areas of interest: 1) issues of power and democratic accountability in the education policymaking process, 2) relationships between institutional and organizational structures and education policymaking and implementation, and 3) how school leaders come to understand and implement policy in ways that lead to the enactment of social justice for historically marginalized student populations.
Honors and Awards:
Association of Education Finance and Policy (AEFP) New Scholar Award (2017)
Emerging Education Policy Scholar, Thomas B. Fordham Foundation/American Enterprise Institute (2017)
Alumni Fellowship, Michigan State University College of Education (2015-16)
David L. Clark Seminar Fellow, UCEA and AERA Division L (2015-16)
Hinman Graduate Fellowship, Michigan State University College of Education (2014-15)
Education Policy Academy Delegate, American Enterprise Institute (2013)
Dean's Scholar Award, Michigan State University College of Education (2012-17)
Selected Publications
Mavrogordato, M., & White, R. (2017). Reclassification variation: How policy implementation guides the process of exiting students from English learner status. Educational Evaluation and Policy Analysis, 39(2), 281-310.
Schneider, J., Jacobsen, R., White, R., & Gehlbach, H. (2018). The (Mis)measures of schools: How data affect stakeholder knowledge and perceptions of quality. Teachers College Record, 120(6) (Advanced online publication ID No: 21842)
Jacobsen, R., White, R.S., & Reckhow, S. (2016). Cultivating political powerhouses: TFA corps members' experiences that shape local political engagement. Education Policy Analysis Archives, 24(18).
Saultz, A., White, R.S., McEachin, A., Fusarelli, L.D., & Fusarelli, B.C. (in press). Teacher quality, distribution and equity under ESSA. Journal of School Leadership.
Edit Profile