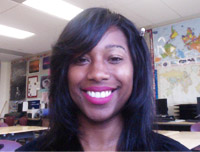 Ebony Cain
Adjunct Assistant Professor
Contact info
Concentration
Teacher Education
Ebony Cain
Dr. Ebony Cain is an Adjunct Assistant Professor in the Masters of Arts in Teaching (MAT) and Teaching English to Speakers of Other Languages (TESOL) programs at the USC Rossier School of Education. She is a former Director of Education Programming for one of the South Bay's leading educational non-profit organizations, Sharefest. Also while at Sharefest, she led the development and management of academic and civic learning opportunities in both year-round and summer school programs. These programs focus upon high risk, low-income high school students in the Los Angeles area. Previous to her present teaching position at the University of Southern California (USC), Dr. Cain taught similar courses at Pepperdine University's Graduate School of Education and Psychology.
Concurrent with her responsibilities at USC, Dr. Cain is a Senior Program Associate with the Center for Powerful Public Schools, another non-profit organization that partners with urban schools districts to implement and create instructional and structural programs that promote greater equity, access and choice for low income students. Her interests in critical research studies was sparked as a high school student when she began working with the University of California, Los Angeles (UCLA) Institute for Democracy, Education and Access. These interventions have been documented in many books, articles and featured presentations focusing on the role of Critical Youth Engagement and the connection to pedagogy and practices in urban schools.
Dr. Cain completed her dissertation research on the integration of civic engagement within the Linked Learning Reforms. She co-authored, "Linked Learning: A Guide to Making High Schools Work," which continues to inform the implementation of reform in schools across California. Her doctoral studies were completed at crosstown rival UCLA where she served as a research associate coordinating an intensive summer program for LAUSD high school students. This program combined an introduction to graduate level research techniques and opportunities to examine central questions potentially impacting the lives of these students. In addition, Dr. Cain has been a keynote speaker at both national and international conferences wherein she has presented her research on educational equity, research methodology and urban school reform to audiences of academics, practitioners and civic leaders. Her most recent work, Educating for a Critical Democracy: Civic Participation Reimagined, analyzing the Council of Youth's Research (CYR). More than anything else, this work captures her passionate interest in advancing the discourse on extending engagement for urban K-12 youth in improving and increasing participation in our democratic society.
Edit Profile