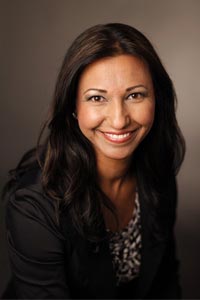 Shafiqa Ahmadi
Associate Professor of Clinical Education
J.D., Indiana University School of Law, Bloomington, Indiana
Concentration
Higher Education
Expertise
Expert on diversity and legal protection of underrepresented students, including female Muslims and sexual assault survivors
Research Center
Shafiqa Ahmadi
Shafiqa Ahmadi is an Associate Professor of Clinical Education at the Rossier School of Education. She is an expert on diversity and legal protection of underrepresented students, including female Muslims and sexual assault survivors. Prior to joining the Rossier faculty, she taught at the Gould School of Law and was a Visiting Researcher at the Center for Urban Education, at Rossier. She has also served as a Research Associate at the Research Institute at Rossier where she assisted with grant proposals and worked on a grant awarded by the Department of Education (DOE) designed to prevent and reduce on-campus sexual assault. Most recently she worked for the Hawaii Civil Rights Commission, where she investigated alleged violations of civil rights and discrimination in areas such as employment, housing, and access to state and state funded services.
Ahmadi has presented extensively and conducted research on diversity and the legal protection of underrepresented students. Her upcoming publication is titled, The Erosion of Civil Rights: Exploring the Effects of the Patriot Act on Muslims in American Higher Education. In this article Professor Ahmadi examines issues of Islamaphobia and the negative impact of the Patriot Act on Muslims in postsecondary institutions. (Fall of 2010, Rutgers Race and the Law Review). Her two most interesting recent publication, examined minority students' college experiences: 1) Reconsidering Campus Diversity: An Examination of Muslim Students' Experiences (collaborative work, 2010, Journal of Higher Education); and 2) Perceptions and Experiences of Muslim Women Who Veil on College Campuses, (collaborative work, 2003, Journal of College Student Development). Currently she is working on three research manuscripts: 1) The Legal Rights and College Services Needed to Better Serve Transgender Students; 2) E-Readers: Legal Responsibility of an Institution to Provide Equal Access to Technology for Students with Disabilities; and 3) Male Survivors of Sexual Assault: Legal Protections and Victim Services on College Campuses (collaborative work). Her research interests also include Shari'a or Islamic law, status of women in Islam today, portrayal of women in classical Persian literature, and Title IX and its impact on women on college campuses.
She received her Doctor of Jurisprudence from Indiana University School of Law, at Bloomington, Indiana. She graduated with Dean's Honors. While in law school and graduate school she focused on Employment Law, Corporate International Law, Middle Eastern Languages and Cultures, and Islamic law (Shari 'a). She is fluent in five languages. She is a native speaker of Persian (Dari & Farsi) and her second language is English. She also speaks Hindi and Urdu.
Edit Profile